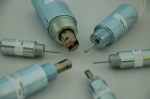 As official distributors for Johnson Electric and, therefore, Ledex, Access Electrical (Services) are stockists for Ledex Tubular Solenoids.
The Ledex team of design and production engineers solve complex problems for a diverse spectrum of applications ranging from printers to defibrillators, weapon systems to ATM's, door locks to wastewater pump controls, and switchgear devices to food and beverage controls.
Contact us now on 01582 697711 to check our stock levels and competitive pricing or check on-line to view specifications and dimensions of each solenoid in the range, or to purchase on-line.
Date :
16th September 2013 16:38